Building your future
begins here and now

You're busy building your career or business and realize that the demands of work and home life don't leave much time to tackle financial planning on your own.
Figuring out how to save for life's biggest moments like buying a home, having kids, funding college educations and someday retiring can seem intimidating.
While retirement may seem a long way off, it's never too early to start preparing for it – and the sooner, the better. Most companies no longer offer pensions, so saving for retirement is solely up to you.
You may be wondering, "How do I even start?" We suggest you start right here. At Aventura Family Office, we're here to serve as your trusted guide throughout each phase of your financial life.
There's nothing like the confidence of knowing that you're doing all the right things today for the goals you have for tomorrow.
Our time-segmented investment strategy
The time-segmented approach for wealth builders differs from those who are nearing or already in retirement because they need investments that generate income. Conversely, the wealth builder is in the accumulation phase of their life and does not need regular distributions. In this situation, the investments are customized to the time horizon of goals such as buying a home or funding college for their children – which could be now, soon or later.
Now let's look at the different buckets and how they work.
Save and set aside a minimum of three to six months of living expenses as liquid funds to help you deal with emergencies or unexpected expenses. Once you've filled this bucket, you can start filling buckets two and three.

Invest in stocks and mutual funds that can still produce income by paying a regular dividend. You can use the dividends earned from this bucket to replenish your first bucket so you remain adequately covered for unexpected expenses.

Once the first two buckets are established, you've strengthened yourself financially, so bucket three is about investing in higher-growth vehicles and taking on more risk to grow your financial portfolio. Contribute to an IRA or company 401(k) and fund a Health Savings Account (HSA).
Moving money between buckets

As time goes by, we'll rebalance your buckets to replenish your Now and Soon buckets so you always have conservative funds available for your life's next financial goal. Since it's not always a good time in the market to sell something, we carefully choose when we move money from one bucket to another.
Having several years of savings in the Now and Soon buckets helps us be more strategic about when to rebalance.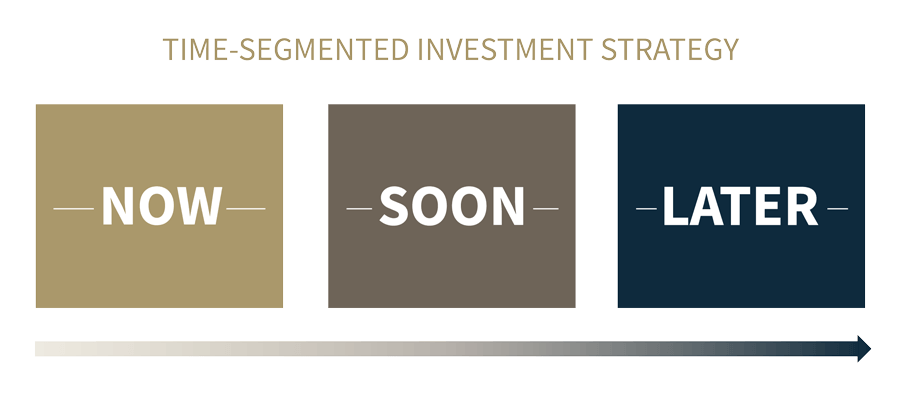 VISUALIZE YOUR FUTURE
A tailored financial plan can help you achieve the unique future you have in mind.
---
Be Good to Your Work, Your Word and Your Friend.
Ralph Waldo Emerson
Aventura Family Office 25511 Budde Road Suite 2301 The Woodlands, TX 77380-2099
TF 877.992.1340
Raymond James financial advisors may only conduct business with residents of the states and/or jurisdictions for which they are properly registered. Therefore, a response to a request for information may be delayed. Please note that not all of the investments and services mentioned are available in every state. Investors outside of the United States are subject to securities and tax regulations within their applicable jurisdictions that are not addressed on this site. Contact your local Raymond James office for information and availability.

Links are being provided for information purposes only. Raymond James is not affiliated with and does not endorse, authorize or sponsor any of the listed websites or their respective sponsors. Raymond James is not responsible for the content of any website or the collection or use of information regarding any website's users and/or members.

Investment advisory services offered through Raymond James Financial Services Advisors, Inc. Aventura Family Office is not a registered broker/dealer and is independent of Raymond James Financial Services.

© 2022 Securities offered through Raymond James Financial Services, Inc., member FINRA / SIPC | Legal Disclosures | Privacy, Security & Account Protection | Terms of Use