Making your money
work for you

You already have part of your retirement income if you have Social Security, a pension or an annuity.
Then you have your investments and savings. So, how do you turn that into income for retirement?
And what about these risks that can jeopardize your retirement?
TIMING RISK: Beginning your retirement during a down market
INFLATION RISK: Your retirement income buys less every year
LONGEVITY RISK: You outlive your retirement income
We have a strategy designed to mitigate these risks.
Our time-segmented investment strategy divides your retirement into segments (or buckets), each with a different investment objective and time horizon. The length of these segments varies, customized to your cash flow needs.
It's designed to structure income throughout the phases of your retirement and to address the risks.
The goal of this first segment is to produce income for your near-term living expenses through the use of investments with little or no stock market risk, such as money market funds, certificates of deposit, immediate annuities, or other relatively conservative investments.

It's designed to give you the money you need for the first year or two of retirement, available whenever you need it, for planned expenses and unplanned emergencies.

This bucket is set up to provide income for the next five to 10 years. It's invested to provide more growth than the Now bucket while maintaining little to no exposure to stock market risk.

For the later phase of your retirement, this bucket has a long-term growth objective designed to offset the effects of inflation, support your charitable interests and provide a legacy for your spouse and children when the time comes.
Moving money between buckets
As time goes by, we'll rebalance your buckets to replenish your Now and Soon buckets so you always have conservative funds available for your living expenses. Since it's not always a good time in the market to sell something, we carefully choose when we move money from one bucket to another.
Having several years of living expenses in the Now and Soon buckets helps us be more strategic about when to rebalance.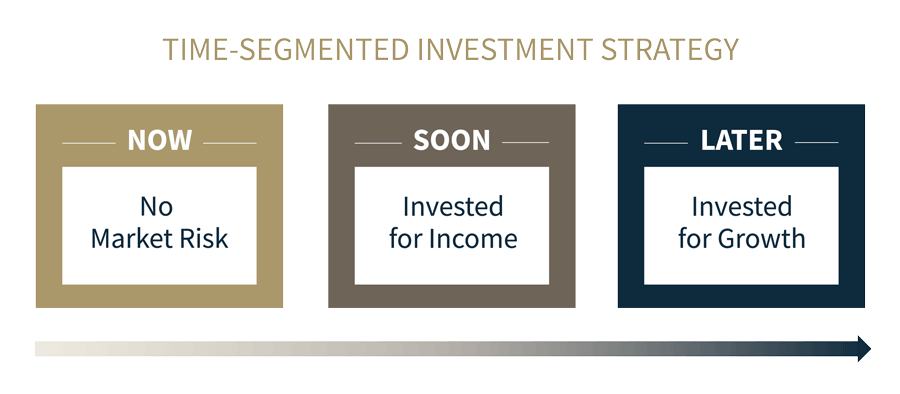 All investments are subject to risk, including loss. The process of rebalancing may result in tax consequences. Annuities are subject to the claims paying ability of the issuing insurance company. Certificates of deposit offer FDIC insurance and a fixed rate of return whereas both principal and yield of investment securities will fluctuate with changes in market conditions. Although money markets strive to maintain a stable net asset value, the funds are not federally insured and there is no guarantee that a stable net asset value will be maintained.
Retirement confidence
Our goal is to make you feel more comfortable about your retirement – so you can focus on simply enjoying life.
Creating your retirement road map
---
Be Good to Your Work, Your Word and Your Friend.
Ralph Waldo Emerson
Aventura Family Office

25511 Budde Road

Suite 2301

The Woodlands, TX 77380-2099

TF 877.992.1340
Raymond James financial advisors may only conduct business with residents of the states and/or jurisdictions for which they are properly registered. Therefore, a response to a request for information may be delayed. Please note that not all of the investments and services mentioned are available in every state. Investors outside of the United States are subject to securities and tax regulations within their applicable jurisdictions that are not addressed on this site. Contact your local Raymond James office for information and availability.

Links are being provided for information purposes only. Raymond James is not affiliated with and does not endorse, authorize or sponsor any of the listed websites or their respective sponsors. Raymond James is not responsible for the content of any website or the collection or use of information regarding any website's users and/or members.

Investment advisory services offered through Raymond James Financial Services Advisors, Inc. Aventura Family Office is not a registered broker/dealer and is independent of Raymond James Financial Services.

© 2022 Securities offered through Raymond James Financial Services, Inc., member FINRA / SIPC | Legal Disclosures | Privacy, Security & Account Protection | Terms of Use